Looking ahead to June, compliance officers have a golden opportunity to shift organizational perspectives with a mid-year review. After compliance officers chronicle lessons learned from prior successes and mistakes, they can also upgrade their programs and advise business on strategy, progress and any shifts in resources needed. For example, compliance officers should consider client complaints, regulatory matters and changes in the business and the regulatory environment. Within Triple Bottom-Line Compliance, this mid-year review fits into the Circle of Compliance spoke where the program and its controls are continuously being assessed to confirm they are effective. 
This will position compliance to collaborate more effectively and work more efficiently in these transformative times. Business leaders are changing how they work; compliance professionals can do likewise by refining or developing return on investment (ROI) metrics.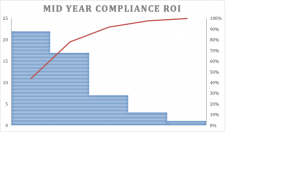 Amongst other important data points, ROI Compliance metrics quantify and track:
●        The total of new clients onboarded after initial due diligence, KYC checks and delivery of privacy notices and other disclosures
●        The amount of RFPs, questionnaires, interviews and client meetings
●        Risk mitigation/estimated cost savings by resolving errors, process gaps and client complaints
ROI metrics vividly illustrate the primacy of Compliance contributions to an organization's well-being. By using them, the business will better understand and acknowledge compliance's contribution to its success. And they can be put to excellent use in a mid-year status report.
Above all, do not hesitate to enlist outside help for your review. With proper support and data, compliance officers can integrate an ROI assessment, the three-to-one ratio for Sustainable Governance and other Triple Bottom-Line components within this review, thereby strengthening compliance's hand for the rest of the year and beyond.
Beth Haddock is author of Triple Bottom-Line Compliance – How to Deliver Protection, Productivity and Impact, and advocates delivering sustainable compliance that increases brand protection, risk mitigation, productivity, and employee engagement.